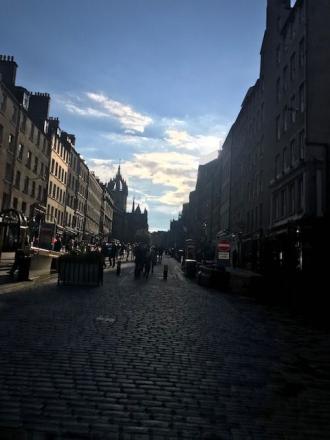 At the time of writing it has not been confirmed whether the Edinburgh Festival Fringe will take place this year. After a lot of people hoped that it would happen in 2020 but almost all of the shows were cancelled. Although I did go up there to see an open air comedy gig, which was the only actual gig that took place in the city during August 2020.
Take a look at the picture on this page. This was Edinburgh in August 2020. The Festival Fringe has been going since 1947 when it started as a response to the mainstream Edinburgh Festival and there had never been a Festival Fringe quite like this. It used to be known as the world's largest arts festival. In 2020 it could probably mount a pretty strong claim to being the world's smallest arts festival. 
I certainly hope the Edinburgh Festival Fringe takes place this year. I've been attending the festival for more years than I care to remember. I've seen brilliant comedy shows, I've seen terrible comedy shows. But I've never regretted going and I always go back.
Because the thing about the festival is that there is so much on there during the month of August (and sometimes the end of July, depending on how the calendars work) that comedy fans are spoilt for choice.  
I should add, by the way, that I tend to go up for the comedy, which takes up the largest part of the Festival Fringe brochure. But there is also theatre, ballet, dance, art, circus, opera, spoken word, poetry. Why not try something you would not normally try? 
The best option for new visitors to the festival is pick your favourite comedians that you've seen on the television by all means, but also leave room in your schedule for some surprises. Just open the Fringe brochure and pick a show. Play the Festival Fringe schedule like you are playing online casino games.
So here are a few tips if the Festival Fringe does take place this year and you go. Firstly, make sure you take an umbrella, waterproof clothing and stout shoes. But also protective sun cream. As I said earlier, I was only in Edinburgh for one day last year and during that day we had both torrential rain and beautiful sunshine. That's pretty much what you get in the Scottish capital in August. It must be the only place you risk getting trench foot and sun burn in the same 24 hours.
If by some chance there are no live stand-up shows at the  Edinburgh Festival Fringe in 2021 though, then don't worry, there is bound to be plenty of comedy online. This year performers will be more prepared to move their shows onto the internet. Last year, even at relatively short notice, there were over 300 shows online, with performers doing their acts over Zoom and Twitch. So plenty of options there. No need worry about getting lost in the city, you just need to make sure you have a decent broadband connection.
In fact maybe watching the Edinburgh Festival Fringe online is a better option in some ways. Nobody would be getting in your way and you would certainly not have to worry about the weather. 
Sponsored post