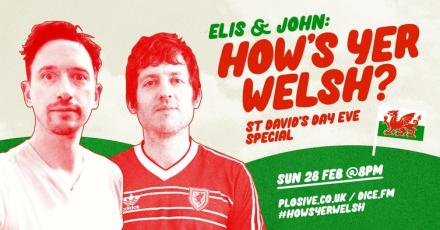 Ydych chi ar e-bost? You simply have to be these days. 
On  Sunday 28th February – St David's Day Eve – broad- and pod-casters  Elis James and  John Robins will be hosting a very special celebration of Elis's homeland in their latest live-streamed show:  How's Yer Welsh?
In  How's Yer Welsh? Elis and John will be joined by a host of comedian pals, John will be dishing out Welsh facts and Elis will probably mention Gareth Bale.
John Robins said: 'Croeso, canol y ddinas a diolch yn fawr iawn! I'm delighted to be putting all of my vast knowledge of Wales and Welsh to good use as I finally teach Elis the History Of Wales and some crucial Welsh phrases. We will be joined by #Top #Welsh #Guests and there will be an exclusive Tick Off A Taste! It really is the whole nine llath.'
Tickets for this live-streamed show are available now from dice.fm priced at £8 (including booking fee).
£1 from every ticket is split between the fantastic domestic violence charity Standing Together Against Domestic Violence and Dr Mz youth drop in centre in Carmarthen.
Listing details
Venue:                        Online
Date:                           Sunday 28 February 2021
Time:                          8pm (GMT)
Price:                          £8 (£1 from every ticket is split between Standing Together Against Domestic and Dr Mz youth drop in centre)
Website:                     https://link.dice.fm/YUmWQlLrYdb