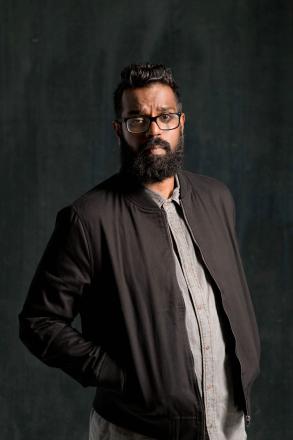 Romesh Ranganathan's guests on the latest edition of The Ranganation tonight are comedians Rosie Jones and Guz Khan.
Jones is on a roll at the moment, rapidly becoming a TV regular. She has also just signed a two book deal with publishers Hachette Children's Group. The first book in the series, The Amazing Edie Eckhart, will be published on the Hodder Children's Books imprint on the 5th August 2021.
The books, to be illustrated by Natalie Smillie, will follow 11-year-old Edie, and are inspired by the author's own experiences of navigating a school with cerebral palsy. 
Jones said: "I am so excited for the world to meet Edie! When I was younger, I inhaled books, and reading has always been my one true love. But I never saw myself in books. I never came across a character who was brilliant, funny, flawed and just happened to have a disability. That's why I've written The Amazing Edie Eckhart. It is so important for children to know that being a little bit wobbly or 'different' doesn't stop somebody from achieving greatness!"
Jones, who is from Bridlington, worked behind the scenes in TV comedy before stepping into the limelight. She has written an episode of the Netflix show Sex Education and has a podcast with Helen Bauer called Daddy Look At Me. 
Guz Khan is best known as the star and creator of Man Like Mobeen, the BBC Three comedy that started life as a short and has now grown into a groundbreaking hit show. There have been three series with a fourth in the pipeline, picking up where the last run ended with his character in jail. No dates have been confirmed for the fourth series.
Khan also appears in Zapped, which started life as a comedy on UKTV but is now available on the BBC iPlayer.  
The Ranganation, Sundays, 9pm, BBC Two
Romesh Ranganathan Picture: BBC/Zeppotron/Off The Kerb/Rich Hardcastle