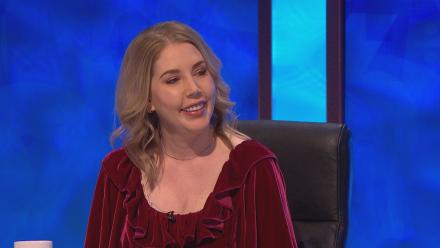 Jimmy Carr hosts the game show mash-up, with Rachel Riley and Susie Dent, who is joined by Brett Domino in Dictionary Corner. Meanwhile on the teams king of the grumps Jon Richardson and king of the scruffs Joe Wilkinson take on Not Going Out's Lee Mack and the ever-excellent Katherine Ryan (pictured). 
2021 is shaping up to be a big year for UK-based star Katherine Ryan. Her debut book, The Audacity, will be published by Blink on September 30.
It will tell the story of Ryan's rise from working in Hooters to being one of the biggest comedy stars in the UK, having her own hit shows on Netflix and performing sell-out tours.
Chapters will include How to Potty Train Your Baby at 10 Months, How to Cut Off Your Racist Aunties, How to Marry Your High School Boyfriend and How to Co-Parent when you're a Single Mum.
Ryan says: "While I've been very blessed to have worked in comedy for over a decade, The Audacity gives me the opportunity to connect with people more fully and honestly than a panel show allows. I've learned to be a sharp-shooter on stage, but there are so many stories that I'm eager to tell in more sincere, longer form. I hope it gives people a laugh, an insight, and hopefully some encouragement on how to live their most fulfilled, authentic lives."
Katherine Ryan will also be touring her new show Missus from September this year (Covid-19 permitting). Having previously denounced partnerships, Katherine has since married her first love. A lot has changed for everyone, and the show will give fans a chance to hear Katherine Ryan's new perspectives on life, love, and what it means to be Missus. Dates
here
.
8 Out Of 10 Cats Does Countdown, Thursdays, 9pm, C4.
Picture of Katherine Ryan: C4
Update: for those asking on social media after seeing Katherine Ryan on Game of Talents, as far as we know Katherine Ryan is not pregnant.