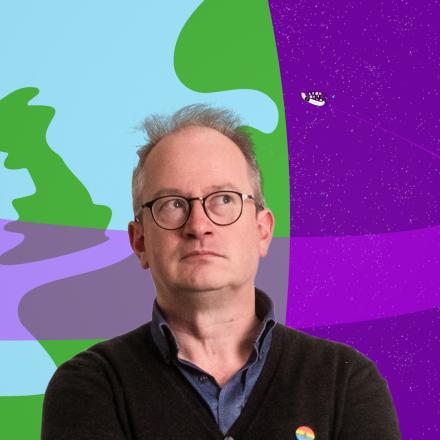 Robin Ince and The Cosmic Shambles Network are presenting three new online series this month with Robin at the helm. Each series is, in its own unique way, a wonderful, thought-provoking reaction to the times we are living in and the effect they are having on us all. Each is the perfect way to spend an entertaining hour. And potentially learn something too.
Details below
AN UNCANNY HOUR Series Two
www.cosmicshambles.com/uncannyhour  
19th February 2021 then every second Friday at midnight
After covering the horror classic Dead of Night, the band Hawkwind and 70s counterculture and UFO culture (among other things), An Uncanny Hour (presented by Robin Ince) returns for Series Two. Episode One examines John Carpenter's Apocalypse Trilogy, with input from Alan Moore, Stewart Lee, Dr Suzi Gage, Samira Ahmed and Reece Shearsmith, plus physicist Dr Christine Corbett Moran chats to Robin about watching The Thing at the South Pole and astrophysicist Professor Priyamvada Natarajan discusses the particle physics of The Prince of Darkness. Other episodes in this series will include Cosey Fanni Tutti, Toyah Willcox and Richard O'Brien discussing Derek Jarman's film Jubilee, Mark Kermode and Mark Gatiss on The Exorcist 3 and an episode on folklore in Doctor Who. A 30 minute anthology of the first series is also now available at https://cosmicshambles.com/uncannyhour/season-one-anthology. 
TIPS FOR EXISTENCE
www.cosmicshambles.com/tipsforexistence  
Wednesday, 24th February then weekly on Wednesdays 
After 12 years of making the multi award-winning series The Infinite Monkey Cage with Professor Brian Cox, Robin Ince is finally having to face the fact that the Universe might have no purpose. Now that all this science has made everything meaningless, he has to go to all the bother of making meaning himself. Tips For Existence is a series of conversations with astronauts, physicists and atheist bible scholars (amongst others) about finding purpose in a purposeless universe. It is a hat from which to pull many an existential question and is sure to spark further explorations into our collective curiosity. Robin will be joined by some of the greatest names in science and art including Tim Minchin, Neil Gaiman, Nicole Stott, Professor Francesca Stavrakopoulou, Professor Brian Greene, Professor Anil Seth, Professor Chris Jackson and Ann Druyan, who, with her late husband Carl Sagan, created the ground-breaking Cosmos television series; the very reason Robin started his adventures in The Infinite Monkey Cage.
REALITY TALKS 
www.cosmicshambles.com/realitytalks
Every second Tuesday at 8.00pm (next one – 23rd February)  
As he currently cannot physically tour due to COVID-19, Robin Ince is back with a new series of live online comedy shows - The Reality Talks. As normal life feels ever more distant and unreal, with our increased solitude and the exponential rise in conspiracy theories, Robin decided it was time to talk about reality - what is it and does it even exist? Or rather, why do we believe what we believe and how do our senses fool us?
We believe we are reliable narrators, but evidence from many corners of science and psychology demonstrate that we are making up more of the story of our lives than we imagine. Reality Talks is a series of live online events where Robin discusses some of the ideas we have of the world. He has already tackled ghosts, death, quantum physics, sleep and dreams. Next up he'll be looking at living in a probabilistic universe and the stories our minds tell us to make sense of our world. Following each talk he is joined by an expert for a discussion and live Q&A. Guests so far have included paranormal investigator Hayley Stevens and John Higgs, author of Stranger Than We Can Imagine and a new book on William Blake. 
These ground-breaking series are available to all the Cosmic Shambles Network's Patreon subscribers (www.patreon.com/cosmicshambles). One off tickets to Reality Talks are also available to buy from www.tickettailor.com/events/thecosmicshamblesnetwork/.