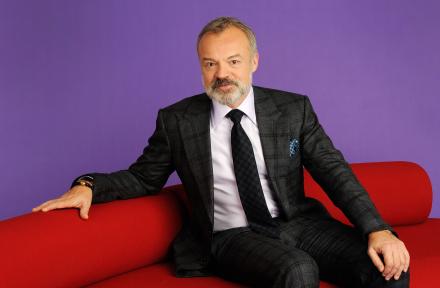 On tonight's show Graham welcomes Hollywood star Sienna Miller, Oscar-nominated Get Out star Daniel Kaluuya, Hustle star Adrian Lester actor Mayim Bialik, top comics (and husband and wife) Marcus Brigstocke and Rachel Parris, and British singer-songwriter Arlo Parks.
Comedy couple Marcus Brigstocke and Mash Report star Rachel Parris told one story that didn't make the final edit. "We got a motorhome – basically it's a fridge on wheels – and decided to have a night away.  We found a nice secluded spot in the woods but, after a walk and spot of backgammon, we realised we were surrounded by lots of cars in what turned out to be a popular dogging spot!"
Rachel continues, "They were parked either side of us – it was terrifying, and we looked like we were the ringleaders!"  
The husband and wife, who don't usually perform together, talked about the comedy gigs they have been doing online during lockdown for James Gill's Always Be Comedy club. Talking about their Tuesday Night Club, Rachel says, "We started doing a few online gigs during lockdown and were sceptical at first because it was so different to what we are used to – and we thought we would only have enough material for about 10 minutes."  Marcus adds, "We thought we would manage half an hour or so, but we've done an hour and twenty minutes every Tuesday for the past eight months!  It's great." 
Marcus Brigstocke is also one of the stars of a new short film, The Feathers, with fellow comic Mike Gunn and directed by another comic, Joe Bor. Watch The Feathers here.
Daniel joins Graham via Zoom to chat about his new crime biopic Judas and the Black Messiah.
Asked about preparing for the role of a real-life character – political activist Fred Hampton – he says, "I had to do so much – I read all of the Black Panther reading list to try and understand the thinking, and had an opera singing coach help me  project my voice for all the speeches.  It was a lot and I worked really hard!"
Talking about what he's been doing during lockdown, he says, "I let go and ate everything!  I also taught myself to write with my left hand.  On the first day it looked like I was writing while the house was being bombed, but to see the progression in six months was amazing.  It makes you realise that doing stuff you normally do and then doing it a different way challenges the way you do everything." 
Asked if there will be a Black Panther 2, he says, "That's what the streets are saying."  Adding, "We are going to have to honour Chadwick (Boseman) on it and give as much to his legacy as he gave to us, because he gave us everything.  He was an incredible man with an incredible soul."
Sienna, asked about Chadwick, her co-star in 21 Bridges, says, "He did an amazing thing for me – he donated some of his salary to get me to the number I had originally asked for.  We became close friends and I didn't really want to bring it up, so I wrote him a letter to thank him.  He said, 'You got paid what you deserve and what you are worth.' That was so validating from a man I respected so much.  It's that kind of behaviour that moves the needle – there is a lot of talk but not much action.  He had grace and dignity – it wasn't flashy, he did it because it was fair."
Talking about her new film Wander Darkly, she says, "It's really difficult to describe, but it's a very surreal love story.  It was complicated to make, and my character has no idea where she is or what has happened to the world, she is living in. So, with it coming out now, I think people will get it!  It is remarkable." 
Adrian, talking about his new play Hymn, says, "It was very tricky to rehearse while socially distancing and abiding by all the rules, the play is unique in that way."   
Asked about the live streaming of the play, he says, "It is odd that so many people have the chance to see it – I had to get my head around that over 1000 people will be watching each performance, yet we are in a theatre that seats only 300.  It's kind of weird.  The strangest thing though, is not actually having a physical audience to perform to – we are on stage but have no clue what's working and what people are thinking.  We have no chance to test it before it goes straight into their living rooms." 
Mayim joins Graham from LA for a chat about Call Me Kat, the American version of Miranda.
Asked about the new show, she jokes, "We are doing the new adaptation with all due respect to the BBC, the United Kingdom and Miranda (Hart).  We have a different sense of humour, so this is definitely a different version."
Talking about coming back to acting after walking away from her early success, she says, "I left the industry for 12 years and I got a doctorate in neuroscience.  I wanted to experience life where you're valued for what's in between your ears and not just for what you can provide for other people. I was literally running out of health insurance and thought that if I could get a few small parts it would help. I'd never seen The Big Bang Theory and didn't know what it was. I was cast and my life changed."
Asked if she was the only person on set that knew what they were talking about, Mayim says, "Nobody wants to be that actor – the complete nerd that tells everyone they've got it wrong!" 
Arlo performs Caroline live in the studio before joining Graham for a chat about her album and upcoming tour.
And finally, Graham pulls the lever on Marcus who volunteers to sit in the Big Red Chair on behalf of audience members.
The Graham Norton Show, BBC One, Friday 12th February 10.45pm. 
Next week's (19th February) guests are Rosamund Pike, Gordon Ramsay, Gareth Thomas, Judi Love, and Ella Henderson & Tom Grennan
Graham Norton Image Credit: BBC/So Television/Christopher Baines