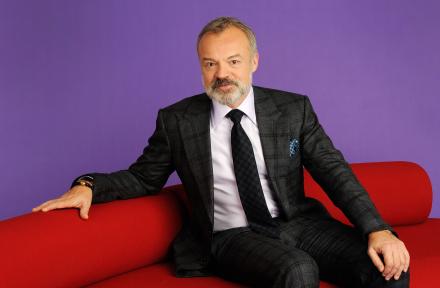 On tonight's show (5th February) Graham welcomes nicest man in rock Dave Grohl, Bridgerton star Regé-Jean Page, actor Felicity Kendal, top comic Alan Carr, Derry Girls'SiobhánMcSweeney, and singer and podcaster Jessie Ware. 
Dave joins Graham from LA to chat about the 25th anniversary of Foo Fighters and their new album Medicine at Midnight.  
Talking about the band's anniversary, he says, "2020 was meant to be the greatest year in the band's life; the album was finished, the t-shirts were printed, and we were ready to go on tour, and then the world shut down.  This is our most danceable boogie record, and I was like, 'The stadiums are going to bounce to this – I can't wait to hear a 100,000 people sing this song.'  Now it's like some lonely batchelor in his kitchen with his glass of whiskey dancing in his underwear to it – but I will take what I can get!
"I actually thought, 'Why wait?'  We make these songs to be heard and it doesn't matter where, when or who.  By the time we get back out there everyone will know the words and will sing along – it will be a really beautiful experience."  Jokingly adding, "We made a lot of 25th anniversary merchandise but we can always take a Sharpie to the t-shirts and cross out the '5' and put a '6' above it!"
Asked about performing at President Biden's inauguration, he says, "We had pre-recorded it as unfortunately we couldn't be there.  It was an honour to be included but when it actually aired, I was in Hawaii sitting on a couch in a tie dye t-shirt drinking a beer watching myself at the ceremony and I thought, 'If my life can get any weirder, this might be the moment!" 
Regé, talking about celebrating the phenomenal success of Bridgerton during lockdown, says, "It's just me and the four walls and I don't go to the front door because I am scared.  You don't know who's going to be there.  It's the only thing that is real about the whole thing!"
Asked about working with Shonda Rhimes, he says, "I had been working with her for three years in For the People and when she was casting for Bridgerton, she said, 'I want what he's doing but with a British accent.'  She had no idea I wasn't American.  She was the first person in about six years to allow me to act in my own accent, which was lovely."  Adding jokingly, "Not quite in my own accent as I'm a little more common!"
Talking about the numerous sex scenes in the series, he says, "There was a fair  bit!  We had an intimacy coordinator, so everything is choreographed.  It takes the risk and the embarrassment out of the scene."
Asked if his family watched those particular scenes he says, "There were some cousins missing from the family WhatsApp group and they said, 'We made our tactical cups of tea when you started and when we came back you were still going!'"
Addressing the rumours about him and James Bond, he says, "Bridgerton is the only 'B" word I am allowed to say – I am not going to talk about the other 'B' words!"
Felicity, talking about her upcoming musical Anything Goes, which she describes as "A comic Titanic that doesn't sink!" says, "In the spirit of being completely positive about things that are impossible to guarantee, we are going ahead we think!  It's what we all need – we have had so much doom and gloom we all now need to go and see something wonderfully escapist."
Asked about her singing and dancing skills, she jokes, "I can't sing but there is always hope.  It'll be fine or I will get fired!"
Talking about The Good Life, Felicity reveals the battle she and Penelope Keith had to portray their characters drunk, "I love acting pissed and we thought it would be very funny if we became as drunk as Jerry and Tom, but the head of the BBC said Barbara and Margot can't get drunk because they are so loved by the audience.  We fought really hard to do it and eventually we did that scene.  It's interesting to see how far we've come – now everyone is pissed!"
Alan, talking about taking the helm as host of Interior Design Masters, says, "I love doing the show but it's so horrible when we have to eliminate contestants – because of COVID we can't hug them so it's like, 'You're going home', they cry and you just say, 'Bye.'  Basically, you might as well have a trap door that leads to a skip.  I just want to hug them.  It's horrible and I hate it."  
Asked if he has any interior design skills, he says, "I know how to light a candle and plump up a cushion, but I look at someone who's put up a shelf as some sort of black magic.  It's like watching Dynamo or David Blaine!"
Siobhán, asked about hosting The Great Pottery Throw Down, says, "I found it weird presenting rather than acting.  When you act you have another persona but it's hard to know how to be yourself."  
Asked how it came about, she says, "I was on the Bake Off with the other Derry Girls and I had a bit of a breakdown and they thought I'd be good at presenting!  I wasn't angling for it and I didn't know anything about pottery – to be honest, I still don't!"  Adding, "It is such a genuine experience, everyone is so passionate and it's really sweet and emotional."
Jessie, showing off her baby bump, performs her new single Remember Where You live in the studio before joining Graham for a chat.
Asked how she felt being on Barack Obama's playlist, she says, "I think Sasha told him about me, but that's fine.  It's a big coup and it is great."
Talking about touring again, she says, "It's moved to December which is sensible and realistic, and the album is a sexy dance record – people need to be up close and personal."
And finally, Graham pulls the lever on Alan who volunteers to sit in the Big Red Chair.
The Graham Norton Show, BBC One, Friday 5th February 10.45pm. Also available on BBC iPlayer.
Next week Graham's guests include Daniel Kaluuya, Sienna Miller, Adrian Lester, Mayim Bialik, Marcus Brigstocke, Rachel Parris and Arlo Parks.
Graham Norton Credit: BBC/So Television/Christopher Baines