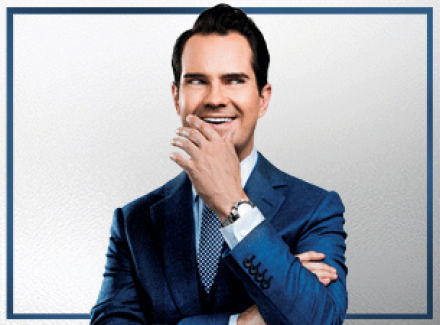 After revealing which British sitcoms are the funniest, OnBuy has now looked at comedians.
They asked 120 volunteers to watch the top 20 British comedians' (chosen by comedy lovers) most recent stand-up show. Based on the total duration of laughter per hour (in decibels) they can reveal who is the funniest comedian.
The results: 
Crowned the UK's funniest comedian, Jimmy Carr comes in at number one. Known for his dark humour and partial to a good heckler comeback, viewers of his most recent show laughed for a hefty 4 minutes and 46 seconds on average per hour. 
In second place is Bolton royalty Peter Kay - viewers laughed for 4 minutes and 38 seconds per hour. He surprised the UK when he cancelled his comeback tour scheduled for 2018, but that obviously didn't alter our love for him.
Clinching third place is Jack Whitehall, with laughter totalling 3 minutes and 59 seconds on average. Jack's self-mockery and interaction with his grumpy father is one of the main selling points for his comedic value in the UK.
Following closely behind is primetime host Michael McIntyre (average of 3 minutes and 53 seconds per hour) and rising star Ed Gamble (average of 3 minutes and 44 seconds) in fourth and fifth, respectively. 
Completing the top ten funniest British comedians are:
Billy Connolly – 3 minutes and 37 seconds per hour
Jason Manford – 3 minutes and 20 seconds per hour
Romesh Ranganathan – 3 minutes and 11 seconds per hour
Bill Bailey – 3 minutes and 7 seconds per hour
Ricky Gervais – 3 minutes and 1 second per hour
Flipping the table, Rhod Gilbert is the least funny comedian of the top 20.  Whilst his most recent show received high ratings of 7.8 on IMDb, volunteers in the study laughed for only 1 minute and 50 seconds of the hour. 
Please note these results are based on laughs measured, so it's perhaps no surprise joke-tellers fared better than comics we would consider to be more nuanced storytellers.
 Methodology:
OnBuy.com asked 2,563 participants to choose their favourite British comedians of all time from a list and then took the top 20.
120 volunteers agreed to watch a random selection of the top 20 comedians' most recent hour-long stand-up show over a period of three weeks (11/01/21 – 01/02/21). All participants listened via headphones and with a microphone connected to a computer programme that measures decibels close to them. 
Where a comedian's full stand-up show wasn't available, their most recent comedy appearance was found and the results were extrapolated to achieve laughter duration per hour.
Based on the duration of laughter per stand-up show, OnBuy was able to rank the funniest British comedians.
A laugh was counted as one where the volume reached at least 60dB. The duration measured the total time (seconds) that the laughter was sustained for per person on average, across each show.
According to EarQ, the average decibels of laughter is 60-65 dB.